Dahao MS-01 three phase stepping motor segment driver board.
Only fit for one side frame motor .
for XY frame ,need one MS-21 driver or 2 set MS-01 driver.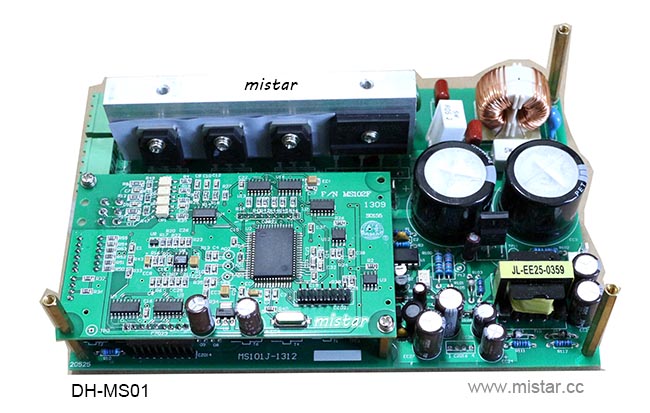 ---
Mistar.cc supply more dahao embroidery machine boards.
1: dahao main boards
E9101B,E950,E808,E850,E860,E866,
E870,E901, E879, E890,E620,E600,E8805,
E8806,E1901,E1901 etc.
2: dahao Power supply boards. E9102,6BPB,E721,E733,E734,PW07,PW07,PW09A,PW10,PW11,PW17,PW17A,EF108,PS001,PC001,PW04C,PW09C,PW10,PW18,PW51,PW54,PW58 etc
3: Dahao thread break detecting board:
ZWB board,EF104B ,EF119A,EF139,EF101,EF102,
EF110b,EF120b,EF122,EF154d,EF154a,EF156,EF170,EF176,EF103,EF109,KD007A,PD002,PD014,EF193.
4: Signal transfer board.
E601B,E903G,E874D,IF002A,EF174A,EF165B,EF233B.
5: motor drive board.
MD202C,MD201B,MD101D,AD101,SD201E,SD301A,SD303A,
MCB-5,FV301,FV201.
6: Other control board.
EF168, PC269,EF173,EF273,EF185,EF188,EF175,PC169,
PC007C,EF190,E924,E9511,E937,EF197.
7:single head machine board.
E1930,E1931,E928C,E929A,E918E,MD101D
8: laser cutting machine.
EL879A,PC009,E737,E738A,E739,E740,E741
9: Auto-lubricating system.
JY102A,JY101A.
*****Because of the different manufacturing time and factory, actual version number may be slightly different.